Summary: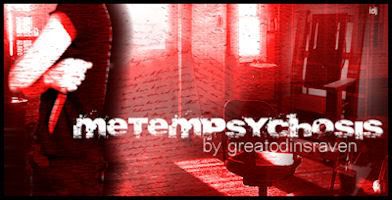 me·tem·psy·cho·sis
1. the passage of a soul from one body to another.
2. the rebirth of the soul at death in another body, either human or animal. Cf. creationism. - metempsychic, metempsychosic, metempsychosical, adj.
This is my response to the grindhouse fiction challenge.
Banner awesomeness provided by idjunkie woo hoo!
Table of Contents
Categories:
Original Fiction
Characters:
None
Classification:
None
Genre:
Drama
,
Erotica
,
Horror
,
Slash
,
Suspense
Story Status:
None
Pairings:
None
Warnings:
Adult Situations
,
Character Death
,
Dark Fic
,
Extreme Language
,
Graphic Violence
,
Original Characters
,
Sexual Content
Challenges:
Chamber Grindhouse Challenge
Series:
The Chamber Grindhouse
Chapters:
2
Completed:
Yes
Word count:
9930
Read Count:
1563
Published:
18/10/08
Updated:
18/10/08